English
In English, the skills and processes of reading, writing and talking naturally form the basis of learning at all stages. Through these, we aim to promote effective communication, critical thinking and a deep enjoyment of literature. Personal research and working in groups are actively encouraged as methods to complement the more traditional whole-class teaching approach.
S1 & S2 English aims to create an appreciation for reading and language. These skills are then developed through the National 4/5 Courses. At Higher and Intermediate 2 level pupils undergo extensive and intensive teaching in language skills, textual analysis and critical evaluation. Pupils can then develop this further at Advanced Higher Level.
Our extra-curricular activities comprise the Book Group, Press Review discussion group, Creative Writing and Drama Club (S1-S6). Something there for every discerning pupil with an interest in language and culture!
S1 & S2 English
S1
The S1 course consists of reading for pleasure; reading and evaluating literary texts; writing in a variety of genres; talking for a variety of purposes in groups; solo talk presentations; knowledge about language (parts of speech, figures of speech and punctuation).
S2
The S2 course has the same content as that for S1 although progression is catered for by the increased demands of tasks set in class and as homework.
National 4/5 English
English is the study of verbal and written communication in the most widely-spoken language in the world. It teaches us how to gain the most out of reading, writing, listening and talking. Through your studies you will become familiar with a range and variety of texts as well as gaining vital communication and inter-personal skills. This course will help you to become a more effective communicator, be a critical thinker, develop an awareness of our language, literature and culture, and be creative.
Skills and Knowledge
A broad overview of the subject skills, knowledge and understanding that will be covered in the course includes:
listening and talking, reading and writing in a variety of contexts, for example:

talking in a group
listening to others talk
giving a talk to the class
reading for pleasure
reading for understanding
imaginative writing
personal writing
discursive writing

understanding, analysing and evaluating a range of texts (fiction and non-fiction, print and graphic)
creating and producing a range of texts, as appropriate to purpose of the task set and audience you are writing for, in order to organise and use:

vocabulary
word patterns
text structures
style

knowledge of detailed language in listening and talking, reading and writing.
Learning and Teaching Methods
Staff in the English department will adopt a flexible approach to the teaching of the subject, incorporating a number of different styles ranging from whole class teaching, group work and one-to-one support as appropriate. Peer and group assessment are sometimes used in order to sharpen your critical awareness of your own and others' work.
Careers Information
English is a core subject and the ability to express yourself clearly in both speech and writing will prove to be invaluable, no matter what career or higher education path you might choose in the future.
Higher/Intermediate 2 English
The English Department will offer two courses to our pupils entering S5 in 2012-2013. The Higher course is appropriate for pupils who achieve a Credit level award, grade 1 or 2, in both of the Reading and Writing components. The Intermediate 2 course is suitable for pupils who achieve a General level award in either or both of the Reading and Writing components of the Standard Grade course.
As both courses have an identical framework, pupils who achieve a good Intermediate 2 award in S5 can then go on to follow the Higher course in S6. Pupils who successfully complete the Higher course in S5 will be able to progress to Advanced Higher in S6. A grade A or B pass at Higher is the recommended entry level for the Advanced Higher course, but students with Grade C will be given consideration.
COURSE OUTLINE
The course comprises three 40 hour units:
1) i) Language Study (Analysis of close reading passages)
ii) Writing Folio (Two pieces of extended writing)
2) Literary Study (Critical essay writing and analysis of unseen texts)
Advanced Higher English
The English Department will offer two courses to our pupils entering S5 in 2012-2013. The Higher course is appropriate for pupils who achieve a Credit level award, grade 1 or 2, in both of the Reading and Writing components. The Intermediate 2 course is suitable for pupils who achieve a General level award in either or both of the Reading and Writing components of the Standard Grade course.
As both courses have an identical framework, pupils who achieve a good Intermediate 2 award in S5 can then go on to follow the Higher course in S6. Pupils who successfully complete the Higher course in S5 will be able to progress to Advanced Higher in S6. A grade A or B pass at Higher is the recommended entry level for the Advanced Higher course, but students with Grade C will be given consideration.
The course comprises three units. Two of these are mandatory: Specialist Study and Literary Study. One further unit can be selected from the list below.
The Specialist Study will be a literary study of two or three texts chosen by candidates themselves, and must be 3,500 - 4,500 words long. Literary Study will cover literature from different eras in the three main genres of prose, poetry and drama. The English Department currently prefers to offer the optional unit in Creative Writing.
The Specialist Study and Creative Writing are presented as folios. Literary Study takes the form of a 1½ hour examination.
BBC School Report
Theo, aged 8, runs up a bill of over £1000 buying virtual doughnuts.
By Sophie, Ciara, Ronan, Claire and Rebekah
Theo, an 8 your old boy managed to spend over £1000 on virtual games using his parents' ipad. He spent money on the game The Simpson Trapped Out buying "virtual doughnuts".
His parents only noticed this when his mother called his father panicking about their bank account being empty. After getting a bank statement there was more than 100 purchases ranging from £1.50 to £75.
His parents downloaded a free app for Theo, but when upgrading or buying extra items you do not need a password or confirmation.
The game My Little Pony encourages players to spend £69.99. This would be spent on "a mountain of gems". It is very clear that the My Little Pony app is not aimed at adults to buy features. This game is a children's game.
Theo's father stated, "I was cross, but not with him especially. Apple and itunes should have a more secure way to stop this happening. Or at least alert people after a certain amount has been spent. £1000 worth of doughnuts and I didn't get a single one."
_______________________________________________________________________________________
All-weather Pitch
Hamilton College Celebrates the Opening of its All-weather Pitch
On Friday 15thMarch the brand new all-weather pitch was opened At Hamilton College.
The pupils and the Friends of Hamilton College raised the money to build the pitch through various fundraising activities such as the Astro-ball; many bake sales and a 24hour sport-a-thon.
This pitch will help to improve the pupils' sports skills and will be in use all year round.
Before the weather pitch was built there was an ash pitch which limited the amount of sports available for the pupils and could only be used during dry weather.
Pupils' Views
D'arcy, aged 12 from S1C, commented: "I am a hockey player for Hamilton College. I think it is a great addition to the school and I cannot wait to play a game on it."
Callum, also age 12 from S1B, stated, "I think there will be a better variety of sports available, giving us a wider range to choose from. I like to play rugby but I can't wait to try out something different."
_______________________________________________________________________________________
Rave Review
Pupil from Hamilton College makes it to Final of Comic Relief Competition
By Ciara and Sophie
Gillian, 15, a Hamilton college pupil, performed with her dance group, Rave Heart, for the Comic Relief does Glee Club Competition.
Her all-girl group made it to the final and achieved a fantastic second place.
Gillian who attends Scottish School Musical Theatre has been dancing since the age of 4. This was the last year she could take part in this competition because of her age. She had wanted to audition the previous year but she was completing her dance exams. Her whole family dances and sings so she knows what she's doing!
Gillian auditioned first in Glasgow, where the judges choose fifteen groups from five different heats.
The talented dancer then went to London to audition in front of three judges and one celebrity judge.
It has not all been easy as Gillian has experienced some setbacks. She lost her voice on a number of occasions and she also suffers from knee problems. Although this was a disadvantage, she carried on dancing.
Gillian stated "my journey has been very exciting but also nerve racking."
The S4 pupil was given advice by the judges that was mainly positive but they said that all the girls had to have the same energy levels.
Overall this was a great achievement by Gillian and her group Rave Heart. We hope she carries on dancing and that other Hamilton College pupils will be inspired by her skill and determination.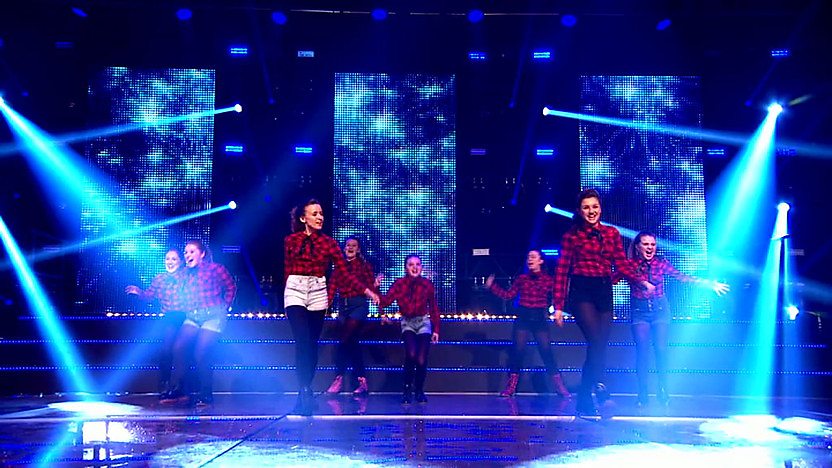 ______________________________________________________________________________________
Doing Something Yummy for Money
Hamilton College Pupil Cake Sale Raises Money for BBC Comic Relief
Hamilton College raised nearly two thousand pounds with a Red Nose Day Bake Sale. Head girl and boy, Lisa and Kyle, along with other prefects and S6 pupils, organised a giant bake sale because they wanted to raise money for one charity before they left school.
To encourage people to bake as much as possible, the prefects held a competition between themselves: whoever baked the most cakes could get the week off duty. This proved to be a popular competition as there were a great number of cakes on sale.
Helping the senior school pupils were Catherine, Blu and Grace, all from J5. They helped to bake by making a coffee and walnut cake, lemon drizzle and a victoria sponge. The girls also donned bobble headbands and sold cakes on the day.
During the bake sale the prefect team all sported comic relief t-shirts and red noses. The pupils also decorated the foyer with Comic Relief bunting.
Their goal was to raise £1000 but far exceeded this target.
The bake sale was not the only event used to raise money as prefects travelled around the school selling red noses. This alone raised £650 for the charity that helps raise money for good causes in Britain and Africa.
Pupils tried to collect all the red noses available this year, known as the "nose with toes". There were three different versions of the noses and many pupils were lucky enough to collect all three.
_______________________________________________________________________________________
To Snow or Not to Snow? That is the Question.
By Zaid, Morna, Christie and Gabriel
Pupils at Hamilton College discuss the absence of snow this winter.
This winter has been remarkable mild in the area of South Lanarkshire. While some people are pleased by this; there are others who long for a white winter.
Snow Go
The weather in Hamilton in 2010 was so bad that some pupils from Hamilton College had to stay overnight in the school, some had to stay on their bus during the horrific weather and others stayed overnight in the Motherwell Football Stadium.
Zaid, an S1 pupil from Hamilton College, stated that, "I was 10 at the time of the big snowstorm. I felt scared because I did not feel comfortable sleeping on the rough carpets and I actually never got to sleep that night."
Morna, another S1 pupil from the school, stated that: "I was in primary 6 at the time, and I did not really enjoy staying at the school overnight, because I was worried about my family who were on their way to pick me up."
Staff also endured difficulties. Miss Reid, an English teacher at the school, was working at Braidhurst High School in Motherwell at the time, "I had great difficulty getting home. Eventually I abandoned my car and stayed at a friend's home. It was like nothing I had ever seen before. There were many abandoned cars and lots of people traipsing through the 2 feet deep snow."
No Snow
Recently the Hamilton area has had several rain showers with the odd day of sunshine. On 11thMarch the South Lanarkshire area received the heaviest snowfall they had had during the end of 2012 and the beginning of 2013.
Gabriel, from Hamilton stated that: "I was quite happy because I had been waiting for it all winter and I was very disappointed when it didn't last."
Ever since that snowfall the sun has been shining in the sky, which some may enjoy but is saddening for others.
Let it Snow
It is forecast for South Lanarkshire to continue having this unusual burst of sunshine and then some rain showers with plenty of clouds. This winter, it seems, will be lacking in snowmen and angels, much to the dismay of many pupils at Hamilton College.
_______________________________________________________________________________________
Scottish Independence
What do young people think?
by Jack and Callum
One of the most debated issues in Scotland currently is Scottish independence. BBC School Report, based at Hamilton College, surveyed the opinions of S2 and they had lots to say about the topic.
There are many pupils who believe that Scotland should become independent and there are others who are strongly against the country breaking away from the United Kingdom. To find out what the younger generation thinks, BBC School Report asked several young people whether they would vote yes or no in a Scottish referendum.
The results of the survey show that some, the minority, would vote yes to Scottish independence. However, the majority of pupils, if given the chance, would vote against Scotland becoming its own independent nation.
Luke, 12, stated, "I've yet to hear good reason why we should become independent."
While Rebekah, 12, argued, "Oil is an important resource that we should not have to share with the rest of the UK."
Senior school pupils expressed their opinions. Theo, 16, commented that, "If Scotland was to become independent then I fear we would lose trade with neighbouring countries like England. I am also concerned about the Common Agricultural Policy since we would no longer be part of the EU."
_______________________________________________________________________________________
Adam, Morna, and Calum discuss the secrets of writing with Cathy Macphail
Award-winning author Cathy MacPhail visited Hamilton College to talk to first and second year pupils about her books and to give advice to aspiring young writers.
She talked about her forthcoming novel, and signed some of her books for the students.
The Hamilton College pupils were delighted to have such a visitor.
Iona, 13, a second year student at the college explained: "Cathy MacPhail is one of my favourite authors. My favourite book is probably "Worse Than Boys" which I asked her to sign today.
"It was amazing to meet her. I was supposed to meet her once before but she was ill, so I was very pleased when I heard she was coming to my school."
As well as giving advice, Cathy answered some School Reporters' questions.
Q: What advice would you give to young people who are aspiring to become a writer?
A: You should observe as much as you can and write as much as you can. Keeping a journal is a good idea.
Gabriel and Adam with some of the author's books
To become a better writer, you need to read a lot.
Q: How do you think of your characters' personalities and are they based upon people from your own life?
A: I take inspiration from interesting places I have been. Then I base my characters' personalities on the story I create in my head about the place.
Q: In the future would you write another series of books?
A: I wrote the Nemesis series with boys in mind. In the future I think I would like to write a series that had a girl or girls as the main character.
Q: Which genre of novel do you enjoy writing the most and why?
A: Mystery is a personal favourite.
Q: If you were trapped on a desert island, which books would you take with you and why?
A: 'Little Women' by Louisa May Alcott is a personal favourite of mine as it was about four sisters and one of them wants to be a writer and in my family there are four sisters and I wanted to be a writer.
I liked the way Charles Dickens wrote about gritty reality and I think my books are about gritty reality sometimes as well.
He also wrote books as a serial so he had to end his chapters with a cliffhanger.
Q: If a pupil was trapped on a desert island which one of your books would you recommend they take with them?
A: It depends if you are a boy or a girl - if you like mystery or romance. It really depends on the person and what their interests are.
However I would say that 'Dark Waters' is one of my own personal favourites.